SHOP
Any comic or illustration here will be sent as a digital file attached to the email address used to purchase it unless you let me know otherwise.
It might take some hours to be sent, but don't forget to check your spam folder! XD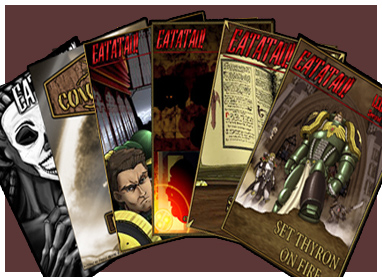 ALL THE COMICS
Get all the Eatatau PayPerView comics with a discount!. Comics included:

-IN HEBRADANAHAST. Johnson`s untold Tales.
-CONQUEROR. Skraat`s untold Tales; In Kraust
-LEGENDS FIRST PART. Return to Thyron
-LEGENDS SECOND PART. Set Thyron on fire
-LEGENDS THIRD PART. Last Order
-BROTHERS IN ARMS
-SHIFTING FATES

-It doesn`t include the +18 goods (SNAPSHOTS gallery, Nari`ka special, Demonized and Ocboober wallpapers)-

Price: 21 Euros





Every year during October, Eatatau collaborates with the Association for International Cancer Research (https://www.worldwidecancerresearch.org/) with the Ocboober campain for breast cancer prevention. Now you can get the uncensored pics in your computer!

The eatatau breast cancer prevention campain 2018 is over, but you can still donate and support the Association for International Cancer Research in their webpage: https://www.worldwidecancerresearch.org/

Money donated to the AICR by the EATATAU! fans:
2012- 238.5 Euros
2013- 215,48 Euros
2014- 77 Euros
2015- 250 Euros
2016- 189.59 Euros
2017- 295.59 Euros
2018- 291.82 Euros
Thank you very much. ^-^


QUALITY TIME
After a well done job, Por`el O-Res Kaara Nari`ka starts planning some nice holidays, just to be abruptly interrupted by...
This 15 pages full-color minicomic tells about the facts right before Nari`ka`s trip to Thyron
in order to avoid the war with the Imperium of man as related in the trilogy "Legends".

Contains nudity, Xenophilia, lesbian intercourse, and a lot of blue!
Viewer discretion is advised, PG +18, and all that things.

Price: 3.5 Euros

Samples: Sample 1 Sample 2 Sample 3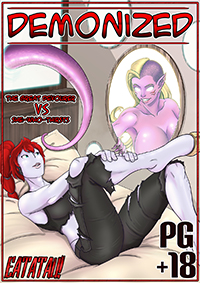 DEMONIZED
When trapped in the eldar bunker and ambushed by some daemonettes,
Sha`shiva had to fight for her life with all she had... and more.
This 12 pages full-color unpublished gallery collection contains nudity, violence, intercourse, and nomnom!
Viewer discretion is advised, PG +18, yadda yadda... Clean after you are done, we all know what we are here for ;)

Price: 3.5 Euros

Samples: Sample 1 Sample 2 Sample 3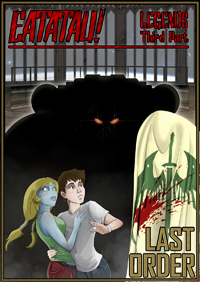 LEGENDS THIRD PART. Last order.
After seven years of war, the Angels of Death prepare the last assault against the ttau defenders.
This 18 pages full-color minicomic is the last one of the "Legends of Eatatau" trilogy and contains the last events of the great war in Thyron previous to the payperview comic "Shifting fates", including the reasons of the betrayal of the centurion Johnson towards the Empire of mankind.
-Contains violence, death and gore. Yeah!

Price: 3.5 Euros

Samples: Sample 1 Sample 2 Sample 3

-Thanks to JRD and the patrons for the grammar check-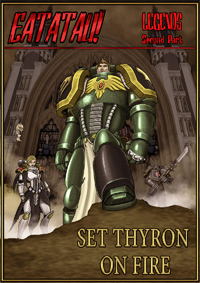 LEGENDS SECOND PART. Set Thyron on fire.
The leader of the sixth century of the Angels of Death was sent to his home planet to investigate some strange events involving aliens, the inquisition and the corrupt government of the planet.
This 16 pages full-color minicomic contains the events that led to the great war in Thyron, which would devastate the planet and subsequently result in the betrayal of Captain Zael Johnson towards the Empire of mankind.
-Contains violence, politicking and Brakka Brakka!

Price: 3.5 Euros

Samples: Sample 1 Sample 2 Sample 3

-Thanks to JRD and the patrons for the grammar check-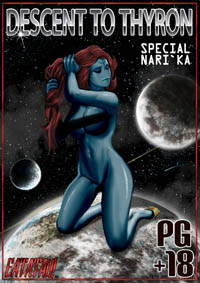 NARI`KA SPECIAL
Being a diplomatic for the Ttau empire is no easy task. Por'el O-res Kaara Nari'ka remembers her many battles fought on behalf of the greater good as her spaceship gets closer and closer to planet Thyron, which is in process of annexation to the Ttau empire.
This 12 pages full-color minicomic contains a journey through Por`el O-res Kaara Nari`Ka`s memories and the moments before her journey to planet Thyron, as told in "Legends, return to Thyron"
-Contains nudity, intercourse and some... "extra bonus"-

Price: 3.5 Euros

Samples: Sample 1 Sample 2 Sample 3



SHIFTING FATES
After seven years of war in planet Thyron, the balance of power is finally broken. Two warriors will collide for the last time as fate will change their lives forever.
This 24 pages, colour minicomic contains the first clash of ttau Commander Kor`vela and the former Centurion Zael Daiah Johnson of the Angels of Death, as well as three pages of designs and background concerning the combatants in the war for Thyron.

Price: 3,5 Euros

Samples: Sample 1 Sample 2 Sample 3



BROTHERS IN ARMS
Being one of the best soldiers the First legion can offer, Zael Daiah Johnson is sent to the Death Commandos to serve there as representative of the Angels.
This 15 pages, colour minicomic contains the first day of Johnson`s service in the Death Commandos, that would alter his own point of view of many of the Angel`s dogmas.

Price: 3,5 Euros

Samples: Sample 1 Sample 2 Sample 3



LEGENDS FIRST PART. Return to Thyron
After more than 70 years, Zael Daiah Johnson, Lord of the Sixth Century of the Emperor`s Angels of Death comes back to his homeworld to investigate it under the orders of his Legion.
This 22 pages, colour minicomic contains the first part of the events that would lead to the war between the Ttau from Tchalla and the Angels of Death over the world of Thyron.
-Contains nudity, violence and gore among others... fuck yeah!-

Price: 3,5 Euros

Samples: Sample 1 Sample 2 Sample 3



SNAPSHOTS


This 10 snapshots collection, contains pin-ups, sketches, discarded images and other unpublished material. There might be something interesting for female readers too. ;)
-Contains nudity and intercourse-

Price: 3.5 Euros

Samples: Sample 1 Sample 2 Sample 3



CONQUEROR. Skraat`s untold Tales; In Kraust


The life in the planet Kraust is hard and short. Only the strongest and bravest of all the creatures can live in this wild and lethal place. The kroott are extremely well adapted to it and they are one of the few species that can call this planet "home". This 14 pages, colour minicomic contains the first part of the biography of Skraat, and shows background info about the kroott and his original planet.

Price: 3.50Euros

Samples: Sample 1 Sample 2 Sample 3

Johnson`s untold Tales; In Hebradanahast


Amidst the call of duty, Sergeant Dutch Johnson fell in the dark planet of Hebradanahast. Although the regular Eatatau! plot does not show this period, there were many stories that happened during it. This 16 pages, B&W minicomic contains some of the events that befell this character until his reappearance in the regular story.

Price: 3.50Euros

Samples: Sample 1 Sample 2 Sample 3